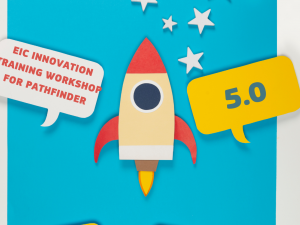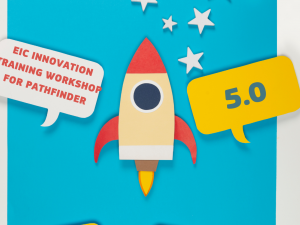 The European Innovation Council Business Acceleration Services invites EIC Pathfinder beneficiaries (FET-Open & FET-Proactive ) to participate in our fifth Innovation Training Workshop. Dozens of Pathfinder beneficiaries already had the chance to join this event. You will get the opportunity to learn in depth about eventual/potential commercialisation of your projects outcomes and maximise your value proposition. The two-day workshop will be based on interactive sessions and will offer concrete business tools to you and your research project, which can be immediately implemented. 
Apply here before  8 January 2021 and capitalize on your innovation!
Having difficulties to define the commercialization potential of your research project? Struggling to identify your customer segment? On 21 & 22 January 2021, a limited hand-picked number of EIC Pathfinder beneficiaries (FET-Open & FET-Proactive) will have the opportunity to cover these topics, among many others. 
During the Innovation Training Workshop you will receive support and training on the commercialization and value creation of your research project: validate your technology, learn how to recognize business opportunities, hone your pitching skills and present your innovative solutions in this 2 x 0,5-day online workshop. 
The workshop is built as an agile match of different modules that will be based on the status (maturity level) and needs of the target group.
Who can apply?
The application is only for EIC Pathfinder beneficiaries (FET-Open and FET-Proactive researchers), acting either as individuals or representatives of a consortium. EIC Accelerator beneficiaries are not eligible for application.
The modules 
Technology Validation and product-market fit process 
Understanding the market pull actions from early stage of Technology Readiness Level (TRL)
Business Recognition and Market Data Module    
Understanding the commercialization potential of the research and defining ideal market sharing technics
Venture Development Methodology Module    
Fine-tuning and improving business proposition and approach to the market.
Exploitation via Lean approach Module      
Identifying customer segment and exploitation opportunities
Simulation and personalized feedback given on the quality of the pitch 
Cancellation policy
Cancellations will only be considered in duly documented cases of "force majeure". Unjustified cancellation can lead to exclusion in future Business Acceleration Services events. For additional information, please refer to our helpdesk: https://community-smei.easme-web.eu/contact (please choose "EIC Innovation Training Workshop" as the subject).