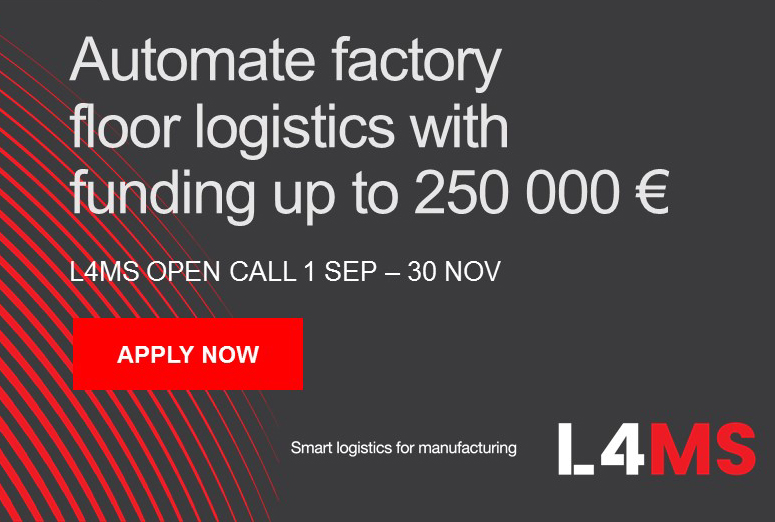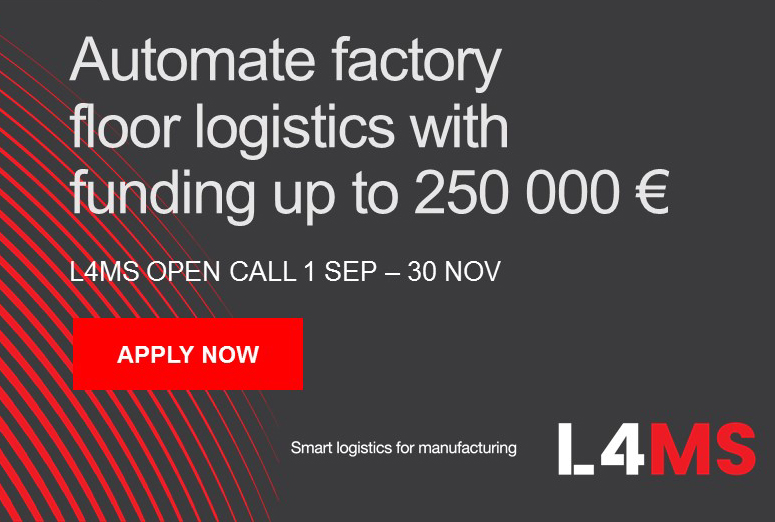 L4MS (Logistics for Manufacturing SMEs), the pan-European acceleration program aims to help small and medium-sized manufacturing companies to adapt new technologies in factory logistics.  L4MS second Open Call is offering a total of €1.5million equity-free funding for creative pilot experiments in logistics. 
Investing in intralogistics and mobile robots requires capital, strategic thinking, comprehensive understanding of the technical challenges and flexibility from the solution. In L4MS acceleration program manufacturers get resources to cost-effective, easy-to-use and customized automation solution for their specific business needs.
3D simulation supports investment decision
L4MS offers an Industrial IoT platform OPIL (Open Platform for Innovations in Logistics) that provides ready connectivity with factory equipment for optimal material handling on factory floor. These include (but not limited to) mobile robots, AGVs, forklifts, workers, sensors and IT infrastructure such as ERP (Enterprise Resource Planning) systems. L4MS also provides a 3D simulator which allows the complete development and testing of logistics solution virtually before actual implementation. This helps companies to estimate investment costs and guide the orchestration of the deployment tasks.
If you are a manufacturing SME or a Mid-Cap looking to develop your intralogistics and productivity, L4MS encourages companies to submit innovative proposals explaining how IoT platform OPIL and 3D simulation might help reduce installation time and costs of mobile robots for their business. 
L4MS will select 10 most promising Application Experiments with highest innovation potential to get access to:
Matchmaking with system integrators and mobile robots manufactures

Funding up to €250,000 per team

State-of-the-art test environment within your region

Business mentoring for innovative business and service models

Technology experts for adopting latest logistics automation solutions

Training to re-skill workers  

Finance for business scale-up and service models
If you are a manufacturer looking to boost your production capacity and improve your logistics system, L4MS acceleration program is for you!
APPLY to Open Call 1 Sep - 30 Nov 2019
Guide for applicants, FAQ's and submitting proposals  http://l4ms.eu
 
If you have questions, please contact
Open Call Funding or OPIL: [email protected]
Ali Muhammad, L4MS Project Coordinator ali.muhammad(a)vtt.fi
Your nearest L4MS representative: project.l4ms.eu/network