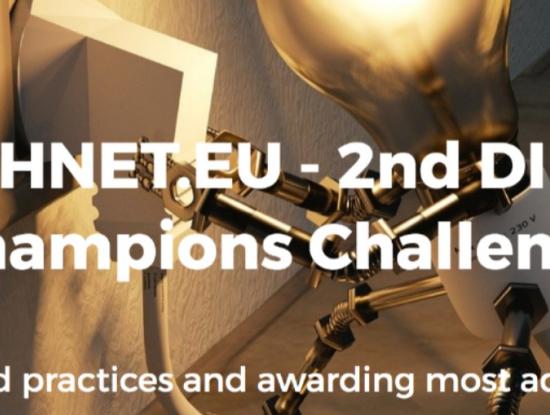 The DIHNET.EU project has just launched today the DIHs Champions Challenge Open Call for its Community of DIHs, and it is looking for the most advanced Digital Innovation Hubs in Europe with the objective to:
identify good practices of advanced/mature DIHs that others could learn from;
identify the DIH champions in the categories of the challenge;
foster future matchmaking opportunities between DIHs finding those with the expertise they need;
help fine-tune information in the DIH catalogue on a regular basis.
The main purpose of this initiative is to identify, show, and support success stories of mature DIHs that can inspire and guide other DIHs in their developments. The winner of the Challenge will be awarded during a European Commission event related to Digital Transformation.
THE CATEGORIES
Services offered by the DIH to support the digitalisation of SMEs related to ecosystem building, financing, testing, digital skills development.
Collaboration Strategy leading to a number of cross-border technology transfer opportunities or joint investments due to structured and sustainable collaboration, including mechanisms such as (business models, impact KPIs, Funding mechanisms) and alignment with S3 priorities.
THE BENEFITS
Widespread visibility on the DIHNET.EU website and community platform.
Networking opportunities and the ability to connect with and contact potential partners, stakeholders, investors, member states, regions, etc.
Specific guidance and follow up on the topics treated within DIHNET.EU project (business models, pan European collaboration, etc.).
Public prize award during EDIH networking event that will be fully digital and is estimated to take place in November 2020.
The deadline for the submission of applications is 21st September 2020 at 13:00 (CEST).