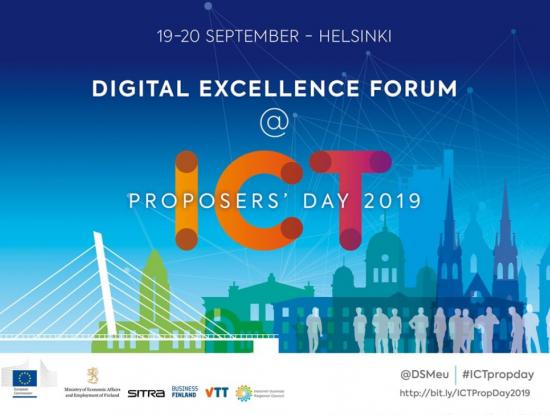 Follow the link to register for ICT Proposers' Day 2019
Digital Excellence Forum @ ICT Proposers' Day 2019 will take place on 19-20 September 2019 at the Messukeskus centre in Helsinki. The event will provide an excellent opportunity to present and discuss the main policy drivers of the digital transformation of European industry and society. It will also present how the EU research & innovation agenda can best contribute to these objectives. The event will also present the Horizon 2020 Work Programme, and serve as a unique networking platform for ICT enthusiasts and professionals.
ICT Proposers' Day 2019 will focus on the upcoming calls of the Horizon 2020 Work Programme in the field of Information & Communication Technologies, Future and Emerging Technologies (FET), and Societal Challenges. The event will offer an exceptional opportunity to build quality partnerships with academics, researchers, industrial stakeholders, SMEs and government actors from all over Europe.