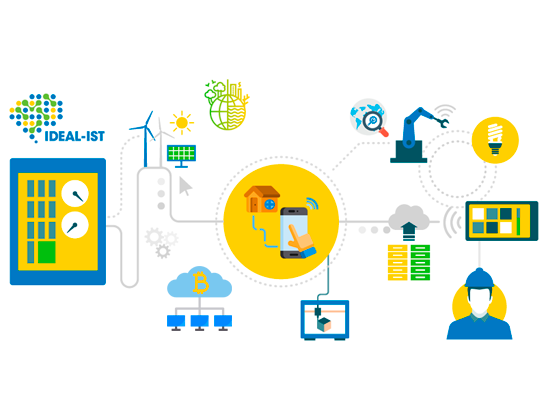 The Industrial Leadership pillar consists of three specific objectives:
-   "Leadership in enabling and industrial technologies" will provide dedicated support for research, development and demonstration and, where appropriate, for standardisation and certification, on information and communications technology (ICT), nanotechnology, advanced materials, biotechnology, advanced manufacturing and processing and space. Emphasis will be placed on interactions and convergence across and between the different technologies and their relations to societal challenges. User needs will be taken into account in all these fields.
 -  "Access to risk finance" will aim to overcome deficits in the availability of debt and equity finance for R&D and innovation-driven companies and projects at all stages of development. Together with the equity instrument of the Programme for the Competitiveness of Enterprises and small and medium-sized enterprises (COSME) (2014‑2020) it will support the development of Union-level venture capital.
-  "Innovation in SMEs" will provide SME-tailored support to stimulate all forms of innovation in SMEs, targeting those with the potential to grow and internationalise across the single market and beyond.
The structure of the section of the 'Leadership in Enabling and Industrial Technologies' pillar which is dedicated to ICT is aligned with the main political priorities in the digital area: the digitisation of European industry and services; the European Data Infrastructure (EDI); the 5G action plan and connected and automated mobility; the Next Generation Internet (NGI), including the Internet of Things and artificial intelligence; Cybersecurity.
The corresponding activities are mainly covered through three calls:
-  a call dedicated to the implementation of the DEI (Digitising European Industry) strategy2 (through support to digital innovation hubs, the development of platforms and large-scale pilots) and the contribution of LEIT-ICT to the DT focus area of WP2018-20,
-  a generic call on Information and Communication Technologies,
-  a call on cybersecurity (which contributes to the focus area 'Boosting the effectiveness of the Security Union').
These calls are complemented by two dedicated joint calls with Japan and South Korea. Several topics of the sections of the programme addressing 'Nanotechnologies, Advanced Materials, Biotechnology and Advanced Manufacturing and Processing' and 'Space' also address challenges related to digitisation and contribute to the DT focus area.
Short description: 
This pillar aims to speed up development of the technologies and innovations that will underpin tomorrow's businesses and help innovative European SMEs to grow into world-leading companies.